Location: Rent House
Time: 8.45pm
Kak Ben
i love oranges.
Puteri
I love pears better.
Kak Ben
Do you know oranges actually good for you?
Puteri
Full of vitamin C?
Kak Ben
Not only that. When i was younger, i use to buy alot of oranges and made my lips juice red n my skin pinkish red... ahh... but i dont have enuff money anymore after that. so i turned pale again.
Puteri
Really?? *interested*
Kak Ben
Yeah, its true...
Puteri
i wonder if i eat oranges, it can make my skin red? but i hv tanned skin? can you see if its red or not??
Kak Ben
what i meant by red skin is, it makes your skin healthy.. not turning you to red..
its good for the blood circulation... understand?
Puteri
oooo.... i thought, it'll turned u red...
Kak Ben
no, Puteri... no... >.>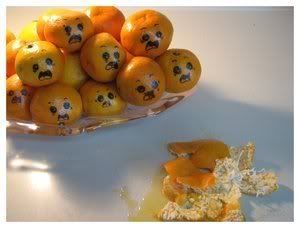 p.s: craving for Buah Kedondong... ermmm... ;((